Stakeholders
Shareholders and investors: Grupo Energía de Bogotá declares its commitment to ensuring value generation by participating in the energy sector and increasing, in a sustainable manner, Group's profitability.
Customers and Authorities: Grupo Energía de Bogotá declares it commitment to ensuring the rendering of services in an efficient, trustworthy, timely and with quality and safety, to generate added value and render the service at competitive prices, always acting under world-class standards.
Collaborators: they have a duty to behave according to corporate values, wherever Grupo Energía de Bogotá has presence or impact. Under such motivation, Grupo Energía de Bogotá declares its commitment to drive collaborators satisfaction by providing a healthy place to work, where human development, respect, trust and leadership facilitate the construction of participative scenarios.
Suppliers: to ensure having the "best business", Grupo Energía de Bogotá companies take on the commitment of strengthening relations with its suppliers network, through world-class practices, understanding that good performance of its suppliers and contractors is important to achieve strategic objectives.
It purports to contribute to Group's competitiveness by adopting international standards, building relationships based on trust and developing processes and skills for the effective acquisition of goods and services taking into account time, price and quality, with clear and fair rules.
Communities where we operate: Grupo Energía de Bogotá declares its commitment, as a member of the community in its areas of influence, by showing respect to human rights, strengthening relationships with neighbors and supporting and developing them.
Likewise, it commits to the development of effective action plans, which tend to identify, prevent, mitigate, control and compensate social impact generated by its infrastructure and operation.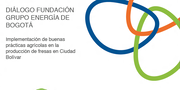 Find in this page, consolidated information on dialogues with all stakeholders, mainly with officials, customers, suppliers and communities.
View more